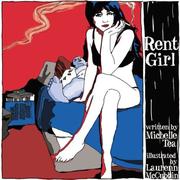 9.406 T253r 2004
Rent girl
San Francisco : Last Gasp, 2004.
239 p. : col. ill.
The saga of Michelle, a young Boston baby dyke, trying to make a buck in the surreal world of the sex industry. Finally, she must decide to either stay in the business with its financial freedoms or quit for her own spirtual serenity.
Available
Comics and Graphic Novels
1 copy available at Lavender Library, Archives and Cultural Exchange, Inc.
| | |
| --- | --- |
| Control No: | 13699 |
| ISBN: | |
| Author: | |
| Title: | Rent girl / written by Michelle Tea ; illustrated by Laurenn McCubbin. |
| Publisher: | San Francisco : Last Gasp, 2004. |
| Physical: | 239 p. : col. ill. |
| Summary: | The saga of Michelle, a young Boston baby dyke, trying to make a buck in the surreal world of the sex industry. Finally, she must decide to either stay in the business with its financial freedoms or quit for her own spirtual serenity. |
| Subject: | |
| Subject: | |
| Subject: | |
| Subject: | Graphic novels |
| AE:PersName: | |
| Link: | |
| Cataloger: | buz |
| Field | Ind | Subfield | Data |
| --- | --- | --- | --- |
| 001 Control No | | | 13699 |
| 005 LastTransaction | | | 20190906080039.0 |
| 020 ISBN | | $a ISBN | 0867196203 |
| 100 ME:PersonalName | 1 | $a Personal name | Tea, Michelle. |
| 245 Title | 10 | $a Title | Rent girl / |
| | | $c Statement of responsibility | written by Michelle Tea ; illustrated by Laurenn McCubbin. |
| 260 PublicationInfo | | $a Place of publication, dist. | San Francisco : |
| | | $b Name of publisher, dist, etc | Last Gasp, |
| | | $c Date of publication, dist, etc | 2004. |
| 300 Physical Desc | | $a Extent | 239 p. : |
| | | $b Other physical details | col. ill. |
| 520 Summary | | $a Summary, etc. note | The saga of Michelle, a young Boston baby dyke, trying to make a buck in the surreal world of the sex industry. Finally, she must decide to either stay in the business with its financial freedoms or quit for her own spirtual serenity. |
| 650 Subj:Topic | 4 | $a Topical term | Lesbians |
| | | $v Form subdivision | Fiction. |
| 650 Subj:Topic | 4 | $a Topical term | Prostitution |
| | | $v Form subdivision | Comic books, strips, etc. |
| 650 Subj:Topic | 4 | $a Topical term | Escort services |
| | | $v Form subdivision | Comic books, strips, etc. |
| 655 IT:Genre | 7 | $a Genre/form data or focus term | Graphic novels |
| | | $2 Source of term | gsafd. |
| 700 AE:PersName | 1 | $a Personal name | McCubbin, Laurenn, |
| | | $e Relator | illustrator. |
| 852 Holdings | | $p Barcode | 96602424 |
| | | $a Location | LLAAC |
| | | $h Classification part | 9.406 T253r 2004 |
| | | $9 Cost | $0.00 |
| 856 ElectronicLocat | 4 | $3 Materials specified | Cover image |
| | | $u Uniform Resource Identifier | https://covers.openlibrary.org/b/id/658299-M.jpg |