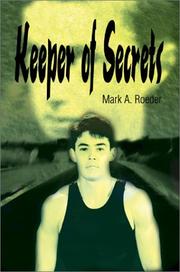 9.400 R712
Keeper of Secrets
Lincoln, NE : Writers Club Press, c.2002.
311 pages ; 23 cm.
Sixteen-year-old Avery is in trouble, yet again, but this time he's in over his head. On the run, Avery is faced with hardships and fear. He must become what he's always despised to survive. He discovers new reasons to hate, until fate brings him to Graymoor Mansion and he discovers a disturbing connection to the past. Through the eyes of a boy murdered more than a century before, Avery discovers that all is not as he believed. Avery is soon forced to face the greatest challenge of all; looking into his own heart.

Sean is head over heels in love with his new boyfriend, Nick, but there is trouble in paradise. Could a boy so beautiful really love plain, ordinary Sean? Sean cannot believe so and desperately tries to transform himself into the ideal young hunk, only to learn that it is what's inside that matters.

Keeper of Secrets is the story of two cousins, one a gay youth, the other an adolescent gay basher. Fate and the pages of a hundred-year-old journal bring them together and their lives are forever changed.
Available
Young Adult
1 copy available at Lavender Library, Archives and Cultural Exchange, Inc.
Control No:

16075

ISBN:

Author:

Title:

Publisher:

Lincoln, NE : Writers Club Press, c.2002.

Physical:

311 pages ; 23 cm.

ContentType:

rdacontent

MediaType:

rdamedia

CarrierType:

rdacarrier

Summary:

Sixteen-year-old Avery is in trouble, yet again, but this time he's in over his head. On the run, Avery is faced with hardships and fear. He must become what he's always despised to survive. He discovers new reasons to hate, until fate brings him to Graymoor Mansion and he discovers a disturbing connection to the past. Through the eyes of a boy murdered more than a century before, Avery discovers that all is not as he believed. Avery is soon forced to face the greatest challenge of all; looking into his own heart.

Sean is head over heels in love with his new boyfriend, Nick, but there is trouble in paradise. Could a boy so beautiful really love plain, ordinary Sean? Sean cannot believe so and desperately tries to transform himself into the ideal young hunk, only to learn that it is what's inside that matters.

Keeper of Secrets is the story of two cousins, one a gay youth, the other an adolescent gay basher. Fate and the pages of a hundred-year-old journal bring them together and their lives are forever changed.

Subject:

Subject:

Subject:

Link:

Cataloger:

jok
Field
Ind
Subfield
Data
001 Control No
16075
005 LastTransaction
20191102032921.0
020 ISBN
$a ISBN
0595216129
100 ME:PersonalName
1
$a Personal name
Roeder, Mark A.
245 Title
0
$a Title
Keeper of Secrets /
$c Statement of responsibility
Roeder, Mark A.
260 PublicationInfo
$a Place of publication, dist.
Lincoln, NE :
$b Name of publisher, dist, etc
Writers Club Press,
$c Date of publication, dist, etc
c.2002.
300 Physical Desc
$a Extent
311 pages ;
$c Dimensions
23 cm.
336 ContentType
$a Content type term
rdacontent
337 MediaType
$a Media type term
rdamedia
338 CarrierType
$a Carrier type term
rdacarrier
520 Summary
$a Summary, etc. note
Sixteen-year-old Avery is in trouble, yet again, but this time he's in over his head. On the run, Avery is faced with hardships and fear. He must become what he's always despised to survive. He discovers new reasons to hate, until fate brings him to Graymoor Mansion and he discovers a disturbing connection to the past. Through the eyes of a boy murdered more than a century before, Avery discovers that all is not as he believed. Avery is soon forced to face the greatest challenge of all; looking into his own heart.

Sean is head over heels in love with his new boyfriend, Nick, but there is trouble in paradise. Could a boy so beautiful really love plain, ordinary Sean? Sean cannot believe so and desperately tries to transform himself into the ideal young hunk, only to learn that it is what's inside that matters.

Keeper of Secrets is the story of two cousins, one a gay youth, the other an adolescent gay basher. Fate and the pages of a hundred-year-old journal bring them together and their lives are forever changed.
650 Subj:Topic
4
$a Topical term
Homophobia
$v Form subdivision
Fiction
650 Subj:Topic
4
$a Topical term
Hate Crimes
$v Form subdivision
Fiction
650 Subj:Topic
4
$a Topical term
Runaway Youth
$v Form subdivision
Fiction.
852 Holdings
$a Location
LLAAC
$h Classification part
9.400 R712
$p Barcode
96605142
$9 Cost
$0.00
856 ElectronicLocat
4
$3 Materials specified
Cover image
$u Uniform Resource Identifier
https://covers.openlibrary.org/b/id/387368-M.jpg