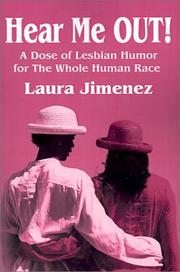 9.806 J61
Hear Me Out! : A Dose of Lesbian Humor for the Whole Human Race
Lincoln, NE : Writers Club Press, c. 2001.
148 pages ; 23 cm.
If Erma Bombeck had been a thirty-something, fat, half-Mexican, lesbian living in Californias Bay Area, she might have written this book. She wasnt, but lucky for us, Laura Jimenez is and so much more!Hear Me OUT! is a collection full of humor, insight and honesty about love, life and everyday chaos. Witness one womans vain attempts to understand and explain this oddity we call modern day living. Hear Me OUT! is a collection that allows us to enjoy someone elses trials and tribulation with family, friends and the laundry, which never seems to get done.
Available
Regular
1 copy available at Lavender Library, Archives and Cultural Exchange, Inc.
| | |
| --- | --- |
| Control No: | 16159 |
| ISBN: | |
| Author: | |
| Title: | Hear Me Out! : A Dose of Lesbian Humor for the Whole Human Race / Jimenez, Laura. |
| Publisher: | Lincoln, NE : Writers Club Press, c. 2001. |
| Physical: | 148 pages ; 23 cm. |
| ContentType: | rdacontent |
| MediaType: | rdamedia |
| CarrierType: | rdacarrier |
| Summary: | If Erma Bombeck had been a thirty-something, fat, half-Mexican, lesbian living in Californias Bay Area, she might have written this book. She wasnt, but lucky for us, Laura Jimenez is and so much more!Hear Me OUT! is a collection full of humor, insight and honesty about love, life and everyday chaos. Witness one womans vain attempts to understand and explain this oddity we call modern day living. Hear Me OUT! is a collection that allows us to enjoy someone elses trials and tribulation with family, friends and the laundry, which never seems to get done. |
| Subject: | |
| Subject: | |
| Subject: | |
| Subject: | |
| Subject: | |
| Link: | |
| Cataloger: | jok |
| Field | Ind | Subfield | Data |
| --- | --- | --- | --- |
| 001 Control No | | | 16159 |
| 005 LastTransaction | | | 20191228032709.0 |
| 020 ISBN | | $a ISBN | 0595198287 |
| 100 ME:PersonalName | 1 | $a Personal name | Jimenez, Laura. |
| 245 Title | 0 | $a Title | Hear Me Out! : |
| | | $b Remainder of title | A Dose of Lesbian Humor for the Whole Human Race / |
| | | $c Statement of responsibility | Jimenez, Laura. |
| 260 PublicationInfo | | $a Place of publication, dist. | Lincoln, NE : |
| | | $b Name of publisher, dist, etc | Writers Club Press, |
| | | $c Date of publication, dist, etc | c. 2001. |
| 300 Physical Desc | | $a Extent | 148 pages ; |
| | | $c Dimensions | 23 cm. |
| 336 ContentType | | $a Content type term | rdacontent |
| 337 MediaType | | $a Media type term | rdamedia |
| 338 CarrierType | | $a Carrier type term | rdacarrier |
| 520 Summary | | $a Summary, etc. note | If Erma Bombeck had been a thirty-something, fat, half-Mexican, lesbian living in Californias Bay Area, she might have written this book. She wasnt, but lucky for us, Laura Jimenez is and so much more!Hear Me OUT! is a collection full of humor, insight and honesty about love, life and everyday chaos. Witness one womans vain attempts to understand and explain this oddity we call modern day living. Hear Me OUT! is a collection that allows us to enjoy someone elses trials and tribulation with family, friends and the laundry, which never seems to get done. |
| 650 Subj:Topic | 4 | $a Topical term | humor |
| 650 Subj:Topic | 4 | $a Topical term | fat activism |
| 650 Subj:Topic | 4 | $a Topical term | family |
| 650 Subj:Topic | 4 | $a Topical term | Mexican Americans. |
| 651 Subj:Geog | 4 | $a Geographic name | california. |
| 852 Holdings | | $a Location | LLAAC |
| | | $h Classification part | 9.806 J61 |
| | | $p Barcode | 96605241 |
| | | $9 Cost | $0.00 |
| 856 ElectronicLocat | 4 | $3 Materials specified | Cover image |
| | | $u Uniform Resource Identifier | https://covers.openlibrary.org/b/id/1294551-M.jpg |