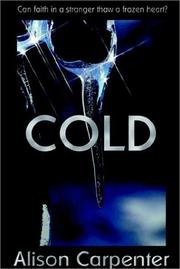 9.406 C295
Cold
Nederland, TX : Renaissance Alliance Publishing, Inc, c. 2003.
246 pages ; 23 cm.
A picture, they say, is worth a thousand words. But Joanna Holbrook-Sutherland senses that a photograph of a homeless woman she sees at an exhibit in a trendy London gallery can change her life--if only she can locate the woman, whose haunting face has been also haunting her dreams.

With a compulsiveness that amazes her family and friends and frightens herself, Jo assembles the crumbs of information that leads her to a frigid park in Whitechapel and to Rocky, a young woman with fearful secrets. But the hardest part is still ahead, as Jo deals with Rocky's debilitating physical and mental consequences of living on the street for five years and with the horrors that drove Rocky there in the first place.
Overdue
Regular
All copies at Lavender Library, Archives and Cultural Exchange, Inc. are out and at least one is overdue
Control No:

16172

ISBN:

Author:

Title:

Publisher:

Nederland, TX : Renaissance Alliance Publishing, Inc, c. 2003.

Physical:

246 pages ; 23 cm.

ContentType:

rdacontent

MediaType:

rdamedia

CarrierType:

rdacarrier

Summary:

A picture, they say, is worth a thousand words. But Joanna Holbrook-Sutherland senses that a photograph of a homeless woman she sees at an exhibit in a trendy London gallery can change her life--if only she can locate the woman, whose haunting face has been also haunting her dreams.

With a compulsiveness that amazes her family and friends and frightens herself, Jo assembles the crumbs of information that leads her to a frigid park in Whitechapel and to Rocky, a young woman with fearful secrets. But the hardest part is still ahead, as Jo deals with Rocky's debilitating physical and mental consequences of living on the street for five years and with the horrors that drove Rocky there in the first place.

Subject:

Subject:

romance

Subject:

mystery.

Link:

Cataloger:

jok
Field
Ind
Subfield
Data
001 Control No
16172
005 LastTransaction
20200528233143.0
020 ISBN
$a ISBN
1930928858
100 ME:PersonalName
1
$a Personal name
Carpenter, Alison.
245 Title
0
$a Title
Cold /
$c Statement of responsibility
Carpenter, Alison.
260 PublicationInfo
$a Place of publication, dist.
Nederland, TX :
$b Name of publisher, dist, etc
Renaissance Alliance Publishing, Inc,
$c Date of publication, dist, etc
c. 2003.
300 Physical Desc
$a Extent
246 pages ;
$c Dimensions
23 cm.
336 ContentType
$a Content type term
rdacontent
337 MediaType
$a Media type term
rdamedia
338 CarrierType
$a Carrier type term
rdacarrier
520 Summary
$a Summary, etc. note
A picture, they say, is worth a thousand words. But Joanna Holbrook-Sutherland senses that a photograph of a homeless woman she sees at an exhibit in a trendy London gallery can change her life--if only she can locate the woman, whose haunting face has been also haunting her dreams.

With a compulsiveness that amazes her family and friends and frightens herself, Jo assembles the crumbs of information that leads her to a frigid park in Whitechapel and to Rocky, a young woman with fearful secrets. But the hardest part is still ahead, as Jo deals with Rocky's debilitating physical and mental consequences of living on the street for five years and with the horrors that drove Rocky there in the first place.
650 Subj:Topic
4
$a Topical term
Homelessness
$v Form subdivision
fiction.
655 IT:Genre
7
$a Genre/form data or focus term
romance
655 IT:Genre
7
$a Genre/form data or focus term
mystery.
852 Holdings
$a Location
LLAAC
$h Classification part
9.406 C295
$p Barcode
100000011
$9 Cost
$0.00
856 ElectronicLocat
4
$3 Materials specified
Cover image
$u Uniform Resource Identifier
https://covers.openlibrary.org/b/id/955538-M.jpg